Adventure Camp @ Bintan
– Suitable for ages 11 to 16 –
Date: 2 to 3 April 2018
Duration: 2 days 1 night (sleeping in tents)
Meeting Point on 2 April: Let ém Play – 18 Boon Lay Way, #01-100, Singapore 609966.
Camp Location: Treasure Bay, Bintan
Brief Description
Adventure Camp @Bintan includes a wide array of thrilling activities, some of which can only be found in Treasure Bay, Bintan – the Camp Base. Campers will definitely have a lot of fun under the sun, playing both land and water activities! All water sports games would take place at Crystal Lagoon @ Treasure Bay – the very first Crystal Lagoon in South East Asia. After a long day of activities, campers would all gather at Bonfire, singing and sharing their takeaways from the camp. It would surely be a camp to remember!
Participants would be going through various challenges and activities throughout the day. They will be playing in teams throughout all challenges to promote a competitive spirit as well as team camaraderie. Since they are technically miles away from home, they would be pushed to learn about teamwork, rough it out, survive and also foster great friendships as they journey together as a team though out the camp activities.
Some of the exciting challenges in the Camp includes:
Survivor Bintan Challenge
Brief Conduct of Challenge: Survivor Bintan Challenge consists of several stations located around Treasure Bay's Crystal Lagoon. Before the challenge starts, participants would be taught several basic skills necessary to perform the tasks. The objective of the challenge is to finish all the stations within the shortest time possible. Each team would have a specific route to follow to complete all 4 stations. Each station would last about 30 minutes.
Learning values: Strategic planning, Problem solving and Decision-making skills, Making use of resources, Teamwork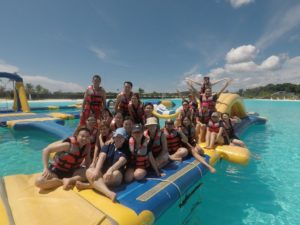 Water Sports Park Challenge
 Brief Conduct of Challenge: Water Park Challenge is an iconic challenge situated right in the middle of the Crystal Lagoon in Bintan. Participants are expected to get wet throughout the whole program. The first phase will be a water sports relay, which involves using of double kayaks, stand up paddles, bumper boats, and water bikes in the lagoon. Each team will have to send a representative pair for various challenges until they complete the rounds. The first team who manages to reach the shore wins the first phase. The second phase of this program will require everyone to be on the Water Sport Park and that's where the real challenge begins.
Learning values: Teamwork, Strategic Thinking, Confidence Building
ATV Challenge
Brief Conduct of Challenge: Participants go on the ATV's to complete the course with the best time in the team relay. This is made more challenging with various add-ons of restrictions and tasks added into the challenge while they are on the off-terrain course. The best team which comes back with the complete task fulfilment in the shortest time wins!
Learning values: Perseverance, Teamwork, Leadership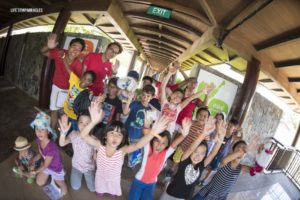 Program Schedule
Day 1
0800 – 0830: Gathering and Registration
0830 – 0900: Briefing and Grouping
0900 – 1000: Bus Transfer to Ferry Terminal
1000 – 1130: Ferry Ride to Bintan
1130 – 1300: Lunch & Tent Pitching
1300 – 1500: Rafting Challenge
1500 – 1520: Water Break
1520 – 1730: Water Sports Park Challenge
1730 – 1900: Group Time & Dinner & Wash Up
1900 – 2130: Camp Fire Activities
2130 – 2200: Debrief and Group Time
Day 2
0730 – 0815: Breakfast
0815 – 0900: Packing and Area Cleaning
0900 – 1030: ATV Challenge
1030 – 1200: Prize Giving and Dismantling of Tents
1200 – 1230: Inspection & Area Cleaning
1230 – 1330: Lunch & Debrief
1330 – 1530: Free & Easy
1530 – 1600: Final Gathering and Checks
1600 – 1900: Ferry to Tanah Merah (Singapore)
1930 onwards: Dismissal
Special Notes:
– everyone will be sleeping in tents. Please bring enough clothes and essentials for the 2 days 1 night camp
– 2 men tents will be provided
– Parents are able to join for the travel but provided there are available rooms in Canopi (the resort in Treasure Bay) at additional cost. However they are not allowed to join in the programs. Please enquire for that.
– please note that the drop off and pick up location is different
– basic insurance is provided but parents are free to purchase more at their own accord
– please ensure the participants has a valid passport for travel and have at least 6 months validity
– please declare any food allergies or special medical notes the camp instructors need to know
– a minimum of 20 pax sign ups will be needed to make the camp possible
Cost for the 2D 1N camp in Bintan: $380/pax
This includes ferry tickets, tent accommodation, all meals, land transfers, all activities as per program (except for Free & Easy part where participants can purchase additional attraction play tickets), insurance and first aid on standby.  
FAQ
1. For water activities, our participants can't swim. Can they still participate & what's your arrangement for these non-swimmers?
For water activities, all are required to wear life vests, thus they are safe at all time. We do have non-swimmers who still take part actively with their teams in previous events. Usually teams would pair up a non-swimmer with a swimmer so the swimmer can help the other.
For those who are very uncomfortable with swimming, they can choose not to participate. We can also arrange a kayak/bumper boat for them – all upon request basis and additional charges.
2. How many facilitators do you have to run the program?
We have both Singapore and Indonesia team to run the program. The number depends on the number of participants. For a group of 20 pax, there would be 3 – 4 facilitators.
3. What's the depth of the Crystal Lagoon?
3 metres in depth at the centre.
4. If my kids falls sick during the program, what happens?
Our facilitators at the camp would take care of him and monitor the situation accordingly. If the sickness is very serious, we would send him to the nearest hospital or back to Singapore based on the situation.
5. Are there proper toilet facilities?
Yes there are proper toilet facilities in Treasure Bay. The facilities are nearby activities area and camping area.
6. Any wild animals in the property?
No there are no wild animals in the property as it is a resort.
7. Do you provide sun-screen?
We do have some on the standby but we would encourage everyone to bring their own as there wouldn't be enough for everyone for 2 days usage.
To sign up for the camp, please fill in the contact form on the right or email to splashworthy@treasurebaylagoon.com.