– Suitable for 7 to 12 years old –
Date: 30 May to 1 June 2018 (3 days) &
           26 to 28 June 2018 (3 days)
Time: 0900 Hrs to 1630 Hrs daily
Location for Pick Up & Drop Offs: Let ém Play – 18 Boon Lay Way, #01-100, Singapore 609966)
Agility and Mental Activities Day Camp
Every student that enters our A & M camp has a personalized growth plan.  Students are taken on a learning journey through an exposure of selected indoor and outdoor activities. This proven formula intuitively churns curiosity that enables the discovery of soft skills like leadership, personal success, empowerment and character development.
Discovery Series – Day 1
Students are exposed to a series of energizer games via robotics to kick start their learning journey while building on their social and communication skills. Students will move on to our indoor high element course and are required to complete a series of complex tasks on the obstacle course that focuses on confidence building and team dynamics. After lunch, students are exposed to Combat Skirmish that is held in an outdoor park. This laser tag activity contains a set of missions that is focused on leadership and character development. Students will take turns to take on a leadership role and will learn how to build ownership and team empowerment.
Adventure Series – Day 2
Students are taken out of their comfort zone in this series of adventure activities. To prepare them for this exercise, students will take a day trip to Pulau Ubin where they learn pioneering skills that will involve navigational exercises, resource building survival skills. Students will be evaluated based on skill sets applied and 'out of the box' solutions. This activity will teach students about true grit and adapting to situations in an outdoor environment.
Road Trip Series – Day 3
In this final set of activities, students set forth on a journey around Singapore via an Amazing Race format where they will be exposed to a series of teambuilding tasks and cultural experiences. This activity will test students on the effects of critical decision-making and accountability to oneself and the team. Cultural immersion is added into this race to teach students about cultural diversity and acceptance.  After lunch, the finale will involve students making a trip to Escape Hunt where students will learn team dynamics and time management by escaping from different themed rooms.
Program Schedule 
Day 1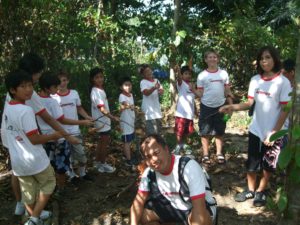 9.00am to 9.15am – Registration
9.15am to 10.15am – Energizer Activities through Robotics
10.15am to 12.15pm – Let ém Play Negotiation Course
12.15pm to 1.15pm – Lunch
1.15pm to 1.30pm – Bus transfer to West Coast Park CP 2
1.30pm till 3.30pm – Combat Skirmish Teambuilding
3.30pm till 3.45pm – Return transfer to Let ém Play Function Room
3.45pm till 4.30pm – Debrief and sharing session for day 1
4.30pm onwards – End of Session
Day 2
9.00am to 9.15am – Arrival of Students
9.15am to 9.45am – Bus Transfer to Changi Point Ferry Terminal
9.45am to 10.00am – Bumboat Transfer to Pulau Ubin
10.00am to 12.15pm – Pioneering Course
12.15pm to 1.15pm – Lunch
1.15pm till 2.15pm – Survivor Skills Course
2.15pm till 3.15pm –  Navigation and Skills Assessment Exercise
3.15pm till 3.30pm – Return transfer to mainland via Bumboat
3.30pm till 4.00pm – Return transfer to Let ém Play Function Room
4.00pm till 4.30pm – Debrief and Sharing Session for Day 2
4.30pm onwards – End of Session
Day 3
9.00am to 9.15am – Arrival of Students
9.15am to 9.30am – Bus Transfer to Chinatown
9.30am to 11.45am – Singapore Amazing Race Skills and Cultural Immersion Exercise
11.45am to 12.45pm – Lunch
1.00pm till 4.00pm – Singapore Escape Hunt Experience(2 themes)
4.00pm till 4.15pm –  Return Transfer to Let ém Play Function Room
4.15pm till 4.45pm – Closing Session with Certificate presentation for Day Camp
4.45pm onwards – End of Session
Special Notes:
As this is a day camp parents/guardians are only required to drop off and pick up for each day at 9am and 4.30pm respectively
Reporting location for each day will be at Let ém Play Function Room: 18 Boon Lay Way #01-100/105 S609966.
Upon successful registration, parents/guardians will be notified in advance on what essential items students will need to bring for each day
Sufficient water will be provided for students for each day. Students can bring their own water bottles if required.
Any medical conditions, allergies, food restrictions and phobia should be made known upon registration to facilitate logistics planning for the camp.
Cost of Program: $349/pax 
The packaged price is inclusive of the following:
Program facilitation, trainers, logistics, rental of venue and activities, water, transportation during the day camp and 1 x lunch/day
FAQs
What do I expect my child to learn and take back from this camp?
Your child will be exposed to a unique list of activities which has been carefully chosen to meet the following objectives.
Leadership
Personal Success
Empowerment
Character Development
Appreciating diversity
An expanded knowledge of soft and hard skills
Improved communication
How do you put this values across so that my child achieves these objectives?
Our programme is built based on the analysis of organisational infrastructure mechanics, key factors such as Communication Skills, Leadership Development and Teamwork are integrated into our programs via the Experiential Learning Model (ELM).
The ELM model focuses on Kolb's 4 stage learning style of:
Doing (Actively participating in teambuilding program)
Feeling (Emotions derived when working with team members)
Watching (Observation from participant and facilitators)
Thinking (Debrief by facilitators and group sharing by participants)
Will my kids be safe?
advenTOUR Singapore has been in the business of facilitation and people development since 2008. Safety is in our culture and have taken measures to ensure that each experience/exercise that the student is goes through is safe for learning while they have fun. We take an active approach to ensure all trainers are well trained and have a valid First Aid, CPR and AED Certification before commencing any activity.
What is the trainer to student ratio for this camp?
We practice 1: 5 trainer to student ratio to ensure that all students have the trainers attention to facilitate learning and manage safety.
What type of students should attend this camp?
We receive a broad range of students ranging from straight A students, children will immense levels of energy and even students who are just generally inactive. There is no specific type that we would encourage to attend however what we can assure is that each student who has attended this program became a better person with purpose, gained a new found curiosity and larger perspective on life.
For sign-ups, please drop us an enquiry on the contact form on the right or send an email to info@adventour.com.sg.