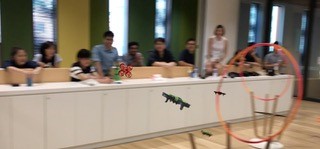 – Suitable for 14 years old and above – 
Date: every Wednesday (starting 18 April)
Duration: 9 weeks
Time: 3.30pm to 5.00pm
Location: Let ém Play Function Room – 18 Boon Lay Way, #01-100, Singapore 609966.
Description
You've heard of racing cars, but have you ever wondered about racing drones? Here at Let 'em Play, we teach you how to control fully manual drones to be a better racer and how to speed through obstacle courses achieving maximum control during the flight. This is achieved over 9 sessions of drone theory and racing training! Expect to learn the fundamentals of flying and the internal components of the drone as well. Be the next top iconic drone racer in your region! To top that, you also get to bring home a drone of your own after the course too. This is probably the best drone training you could ever give to yourself.
Learning Objectives
By the end of the lesson, you would be able to put together a drone and fly it effectively! This course is focused mainly on doing Line-of-Sight flying. After this course, you will be able to advance to the FPV Drone Flying & Racing Course.
Lesson Plan
Lesson 1. Drone Safety Consideration and Practice
Lesson 2. Drone Regulations
Lesson 3. Theory of Flight & Lithium-Polymer Battery Characteristics and Care
Lesson 4. Drone Flight Controls
Lesson 5. Drone Systems and Operation & Building a Racing Drone (racing drone)
Lesson 6. Building a Racing Drone
Lesson 7. Practical Drone Flying Sessions (Line-of-Sight Flying)
Lesson 8. RACE
Lesson 9. Review
*Please take note that lesson plan is subjected to changes, depending on the learning capabilities of the class.
Cost: $750 / pax (inclusive of a take-home drone)
Note:
– course will require 8 pax minimum to commence
– please bring along writing materials for all lessons
– each participant will be given a drone during the course. Any repair needed for damages sustained during the flight will be additional cost.
– students may proceed to register for the advance course (FPV Drone Flying) after completion of this course
Frequently Asked Questions (FAQ)
Q: What are drones?
A: Drones are basically Unmanned Aerial Vehicles (UAVS), that are flown by "pilots" who are on the ground. They are like the aircraft versions of the remote cars being played.
Q: Is it hard to operate and navigate a drone?
A:Drones are not hard to operate. Besides, we have well trained professionals to guide each and every participant during the session.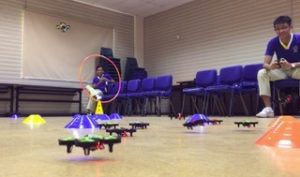 Q: Where are the lessons held?
A: All lessons are conducted indoors in Let ém Play.
Q: Who will be teaching the courses?
A: Professionals from the industry will be teaching the course with a few facilitators to guide and assist participants.
Q: What is the average size per class?
A: Each class can accommodate up to 8 to 20 pax.
To sign up, please enquire via the contact form on the right or email to playlearn@letemplay.com.sg.