Bintan Island or Negeri Segantang Lada is an island in the Riau Archipelago of Indonesia. It is part of the Riau Islands province, the capital of which, Tanung Pinang, lies in the island's south and is the island's main community.
Singapore, the closest major city, is a 45-50 minute trip by motorised catamaran across the Singapore Straits from Bintan Resort area in the northwest of the island. The island has beaches with beach-front International hotels and resorts; the most prominent of these beaches is the Bintan Resorts set over an area of 300 hectares (740 acres) of tropical environment. The archipelago of the Riau Islands is right opposite to this resort across the South China Sea.Indonesia is promoting Bintan as the next best tourist destination after Bali.
The WOW Experience has got her footing in Bintan's recreational activities market since 2009 and had been constantly revolving and improving ever since. It all started from the initial partnership with Nirwana Gardens. The WOW Experience provides them with more comprehensive list of recreational activities on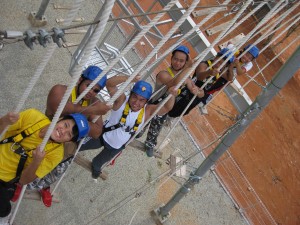 site and partner them to provide teambuilding packages for their customers. We were also the preferred partner to use their Hour Glass High Element Obstacle Course for teambuilding challenges and events.
In 2013, WOW Experience also partnered Treasure Bay to start and develop recreational activities in this new integrated resorts. Plans are underway and once the infamous Crystal Lagoon is ready, WOW Experience will be going in to start operating water based activities in the Crystal Lagoon as the 1st phase of the project. Subsequently, tied in with the hotel development, WOW Experience will be starting more similar land and water activities in the Integrated Resorts.
Stay updated on the exciting project plans we have in place for the next few years to come…