Combat Skirmish LIVE is laser tag delivered at perfection. You not only get to benefit from the numerous advantages which lasertag can offer, you also get to play it in an actual fortification built during the World War Two. How much more real can it get?
Combat Skirmish LIVE operates out of Fort Siloso, Sentosa, and we are the only laser tag business operation on that island. Story lines were adopted from 1940s during the British Occupation period and gelled together with the concept of laser tag to make it our very own: Combat Skirmish LIVE.
Over at Fort Siloso, we can categorized the experiences into 4 main arenas namely:
Indoor Laser Maze – this is basically a training phase for the young British soldiers whereby they are required to navigate in dark environment and small constrictions. The whole cohort will be divided in to groups of 6 to occupy the maze and their objective is to take down their opponents and successfully capture and secure the maze for further orders. Soldiers go through a video instructions and our crew will be there to answer any questions thereafter. Maximum capacity of the maze will be 12 adults, divided into 6 VS 6, fighting and eliminating their opponents by means of their high tech laser guns. Game time is 15 min and cost $18 per pax.

Tunnel Battle – this is where you can test how good your teamwork and communications skills are. Your team will be put through the longest tunnel dug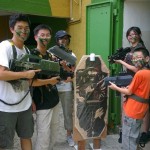 during World War Two and your team will have to fight pass a series of mean machines, firing at you upon detecting motion. This challenge is time-based and there will be 3 parts of story to it before you meet the Senior Commander on the Watch Tower. Game play usually takes about 30 mins to complete, costing $35 per pax and we can house a total of 6 adults at one time through the tunnel battle.
Laserclay Shooting – if you would like something slower and at a relaxed pace, you should take up the challenge of Laserclay Shooting. This is a sport done by the British when they are off duty while they practise and sharpen their skills at Clay Pigeon Shooting. What we are offering in Fort Siloso is much safer and greener, we do not use physical projectile but all laser (infrared actually). A clay is fired and the firer will track the clay and shoot it while it's in the air. On a successful hit, a signal will be transmitted to the gun and eventually to the score board where you will get sounds and visual feedbacks on your successful hit. The only thing is that the clay don't physically break which makes this a much greener option to the traditional clay pigeon shooting. Prices will be $35 for 30min and the system can take 5 players at one go.
Mad Rush – this is a solution if you have a big group of interested people with you. We have company and battalion battlegrounds whereby we host large number of enthusiasts for a skirmish shootout. We have designed thousands of scenarios and surely there will be one which can fit our profile. You will be roughing it out to do your battles in urban and jungle environment. We do plenty of team building programs and school trainings with this concept. Mad Rush programs have to be pre-booked with our team. Do leave us your contact details if you are interested.
After the sessions, we too have got a small merchandise store where you will be able to buy refreshments and souvenirs, specially brought to you by Combat Skirmish LIVE. Opening hours will 10am to 6pm daily (last entry at 5.30pm). Ticket prices are inclusive of Fort Siloso entrance fee where you can visit the numerous tunnels and exhibits while you are not playing.
For more information about Combat Skirmish LIVE, please visit the main official website.