– Suitable for ALL ages (ideal for corporate companies or family friends groups) –
Brief Description
CSR Give-Back Program in Bintan revolves around giving back to the less fortunate. The WOW Experience is able to organise an afternoon of fun and games for one of the orphanages in Bintan and will be bringing the kids into Treasure Bay Bintan for half a day of fun and interaction with the volunteers from Singapore. We want to give the less fortunate kids an opportunity to be like many others who gets to travel to the coveted Crystal Lagoon in Treasure Bay Bintan for an afternoon of fun. We strongly encourage the volunteers to befriend them during the session and show care, love and concern using the many interaction opportunities that are planned out that afternoon through the many games and activities.
This program aims to do donation in forms of cash as well as living essentials and daily necessities like school bags, shoes, books, stationeries and many more. Food items are welcome as well but do be sensitive that Bintan Indonesia is primarily still a Muslim country hence pork and related items are not encouraged.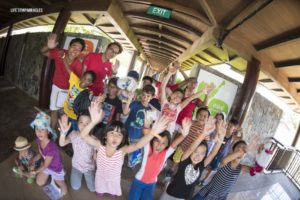 A briefing will be held prior to the departure of this trip to better prepare volunteers to be effective for the program. Upon arrival in Bintan, volunteers will be directed to Treasure Bay while the kids from the orphanage should be arriving shortly after as well. Session will start with a lunch together, befriending and introducing and getting to know each other. Subsequently, in the pre-assigned groups, volunteers and kids will be playing a series of games and activities planned out by The WOW Experience in the compound. The whole session will last about 3 to 4 hours and the kids will be sent back to their homes thereafter while the volunteers will then check-in and go for a seafood kelong dinner followed by a brief on next day's program and expectations.
Day 2 will be where the volunteers will travel over to visit their home conditions and to give the donations to the school. This will be done over a lunch while they get to few some photos that were taken the day before. This session gives the opportunity for the volunteers to help in any chores or help needed in the school or even to strength the befriending bonds between each volunteer and their beneficiaries. More details will be released during the briefing session.
Typical Program Schedule
Day 1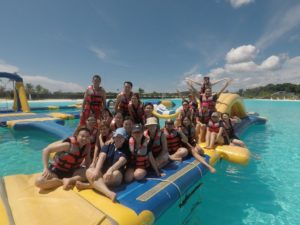 1000 – 1015: Gathering and Registration
1015 – 1100: Check in & boarding
1100 – 1130: Ferry Ride to Bintan
1130 – 1300: Lunch & Interaction
1300 – 1630: Activity & Games with beneficiaries
1630 – 1700: Bid Farewell & Check-In for Volunteers
1700 – 1830: Wash Up and Settle in
1830 – 2000: Kelong Dinner & Briefing
2000 onwards : Free & Easy (optional firefly tour)
Day 2
0700 – 0930: Breakfast & Check out
0930 – 1030: Travel to Orphanage
1030 – 1230: Interaction + Lunch
1230 – 1330: Travel Back to Ferry Terminal
1330 – 1415: Check In for Ferry
1415 – 1630: Ferry Ride back to Singapore
1630 onwards: Dismissal
Cost for the 2D 1N program in Bintan: $475/pax (estimated)
This includes ferry tickets, twin share accommodation, all meals, land transfers, all activities as per program, sponsoring kids for the activities & their 2 lunches and first aid on standby.
Special Notes:
– Rooms are based on twin sharing. Single Occupant need to top up
– Additional bed is only permissible for kids below 12 years old
– Optional fireflies tour after dinner will be $30 per pax
– Please be sensitive to religion and culture differences between Indonesia & Singapore
– Participants are encouraged to purchase your own travel insurance if required
– please ensure the participants has a valid passport for travel and have at least 6 months validity
– please declare any food allergies or special medical notes in the registration forms
– a minimum of 16 pax sign ups will be needed to make the program possible
FAQ
1. For water activities, our participants can't swim. Can they still participate & what's your arrangement for these non-swimmers?
For water activities, all are required to wear life vests, thus they are safe at all time. We do have non-swimmers who still take part actively with their teams in previous events. Usually teams would pair up a non-swimmer with a swimmer so the swimmer can help the other.
For those who are very uncomfortable with swimming, they can choose not to participate. We can also arrange a kayak/bumper boat for them – all upon request basis and additional charges.
2. How many facilitators do you have to run the program?
We have both Singapore and Indonesia team to run the program. The number depends on the number of participants. With the minimum group size, we will have 2 staff to ensure the program is executed smoothly.
3. What's the depth of the Crystal Lagoon?
3 metres in depth at the centre.
4. What are the things I would be able to donate? 
You can contribute food items or things which the kids will be able to use in school. You can also give clothing apparels and sport shoes etc. If it is cash donation, we will generally like to pull it together to hand to the principal of the school for their usage.
5. What are the orphanages you are working with?
We are currently working with 2 orphanages and we are increasing our reach to more such facilities, depending how often we can get volunteers to do this charitable work. The current 2 that we have already linked up at "Towdah" (Christian based) & "Al-Khior" (Muslim based).
6. I am keen to have this program for my corporate company, can you organise it for me but I will need to alter the program so that it suits my company employees profile?
Yes we can do this for you. Please let us know how long you need and your requirements.
To sign up for the camp, please fill in the contact form on the right or email to splashworthy@treasurebaylagoon.com.