In The WOW Experience, we often pose challenges to our customers and one of them will be to take up the high / low elements program. Through this program, we often see fellow colleagues encouraging and helping one another to overcome obstacles. Although it might seem like participants are crossing each obstacles alone, in actual fact, they exactly need one another's support and assistance to get through the obstacles. No man is an island in this high / low elements program.
The Low Element Course consist of a series of obstacles created to improve on teamwork and unity amongst team members.
You can expect to be blinded and guided through the obstacles by your team mates or having to lend a helping hand to friends who are less confident in clearing the obstacle.
In any sense, we believe these obstacles are a symbol of challenges which gives an opportunity to the participant to boast their confidence and bond the team together.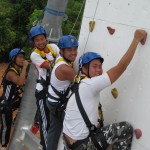 The High Element Course, on the other hand, is a daunting 3 storey high structure with up to 5 obstacles which you would need to accomplish. Participants will meet their fear of height face to face and accomplish tasks they never thought possible until now!
Under the watchful eyes of our facilitators, scale the walls and enjoy the cool breeze from a height with your colleagues and friends.
Once done, you will definitely feel a sense of belonging never felt before!