– Suitable for ages 10 to 15 –
Date: 20 to 21 June 2018
Duration: 2 Days 1 Night (Sleepover)
Meeting Location: Let ém Play – 18 Boon Lay Way #01-100 Singapore 609966. 
Combat Skirmish Laser Tag Boot camp
Our Laser Tag boot camp is unique and one of it's kind. This program is suitable for students who are looking for more adventurous type of camp & love to push their physical limits. Trained & led by our experienced facilitators, we aim to measure & develop student performance, strength, character and to build fitness as well as effective communication skills in a team. During the 2 days 1 night program, students will be assessed through different activities to discover their true potential, soft skills, as well as their fitness performance.
1st  day will focus more to developing their fitness ability through series of fitness classes that will divided into 4 portions: Agility & Accuracy, Reflexes, Speed & Coordination, and Power training. On the 2nd day of the camp, students will be given series of challenge with multiple objectives to meet during the course of the mission. Not only their fitness is tested, students ability to communicate with each other, planning, and strategic thinking will be tested through the final mission.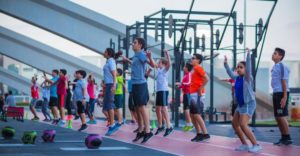 Learning Objectives Students would achieve at the end of the camp:
Leadership
Improved communication skills
Strategic Thinking
Team Work and Co-operation
Social Skills
Fitness development – Agility, Endurance, Coordination & Reflexes
Program Schedule
Day 1
9:00 – 10:00         Registration
10:00 – 10:30       Ice Breaker & Introduction
10:30 – 11:00       Bus to West Coast Park, CP 2
11:00 – 11:15       Laser Tag Introduction & Briefing
11:15 – 11:30       Combat Skirmish – Familiarization
11:30 – 12:00       Combat Skirmish – Hidden VIP
12:00 – 13:00       Lunch Time
13:00 – 14:00       Sharing session & strategizing (Staff to share a bit of their strategy)
14:00 – 14:15       Warm up & stretching
14:15 – 14:45       Fitness Training – Agility & Accuracy
14:45 – 15:00       Short Break
15:00 – 15:30       Fitness Training – Reflexes
15:30 – 15:45       Short Break
15:45 – 16:30       Combat Skirmish – Team Deathmatch
16:30 – 17:00       Fitness Training – Speed & Coordination
17:00 – 17:15       Cooling down
17:15 – 17:45       Students sharing session
17:45 – 19:30       Return to Base & Wash Up
19:30 – 20:15       Dinner
20:15 – 21:30       Missions Planning & Presentation (Student will need to think & develop their own mission)
21:30 – 22:45       Augmented Reality Challenge – Power & Endurance
23:00                    End of Day 1

Day 2
9:00 – 10:00         Breakfast
10:00 – 10:30       Bus to West Coast Park CP 2
10:30 – 11:00       Combat Skirmish – Student's Mission
11:00 – 11:30       1st Challenge – Hidden VIP Touchbase
11:30 – 12:00       2nd Challenge – Students vs Facilitators
12:00 – 13:00       Final Mission – Multiple objective
13:00 – 13:30       Debrief & Sharing Session
13:30                    Dismissal
Cost of Program: $249/pax
Inclusive of:
Program Facilitation
Trainers & Logistics
All meals & drinks throughout the sessions
Venue & Activities
Transportation during the camp
Special Notes
Reporting location will be Let 'Em Play located in 18 Boon Lay Way, Tradehub 21 #01-100 while the dismissal location will be at West Coast Park Carpark 2. Please note the difference of location for pick up and drop off purposes.
Students are to bring sufficient clothes, comfortable shoes, sleeping bag and other essentials to be used for 2 Days 1 Night Sleepover Camp
Students are to bring their own toiletries & personal medication if necessary
Any special diet, allergies, or other medical conditions should be declared upon registration
FAQ
Do my kids have to be very fit, adventurous type, to join this camp?
As long as your kid did not suffer from any injuries / still recovering from a bad health condition, any kids are allowed to join the program. Provided that they are willing to push their limits & dare to thrive more
How would they be sleeping for the night?
The camp participants will be sleeping in Let ém Play location. They will be required to bring their sleeping bags and other essentials for the sleepover.
How do I make sure that my kids will learn something from the camp?
Our camp program is well-developed by our team to make sure that targeted learning objectives will be met at the end of the program. Activities are carefully chosen by our team to meet specific learning objective that will require participants involved to plan, push their limits, and communicate within their team.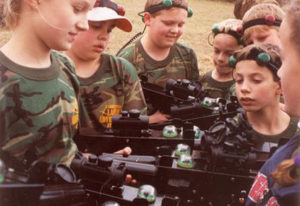 How do I know that my kids will be safe during the 2 days 1 night camp?
Being the ones who started laser tag since 2005, our facilitators have years of experiences as we have conducted countless parties, team buildings, and school programs. Facilitators are well trained with a valid First Aid, CPR, and AED certification. Our safety measures will ensure that kids will be safe while participating in our fun & challenging programs.
How many facilitators will be provided?
Numbers of facilitators depend on the actual numbers of sign up for the camp. More participants means more facilitators to facilitate the program. We will aim for 1:5 trainer to students ratio to ensure the effectiveness of the program & for safety measure as well.
Can I communicate with my kids during the camp / are they allowed to bring electronic devices?
For effectiveness of the program, we will not allow participants to use their mobile phones. For any emergency purposes, you can reach the contact person anytime.
To sign up, please drop an enquiry on the contact form on the right or email to info@combatlasersingapore.com.