Tired from doing the same things over and over? Looking for a new adventure experience in Singapore? advenTOUR Singapore has what it takes for you to see Singapore in a totally different angle. Through our array of exclusive activities, you will be amazed at the amount of exhilarating fun you can experience here in Singapore.
We are talking about kayaking to the kelongs, night cycling in the city or nature at Pulau Ubin, indulging in the popular local cuisines (and the list goes)… Sounds like absolute fun? Here in advenTOUR, bringing together a wide range of unique outdoor activities with guaranteed comprehensive, dedicated and top-notch service is our way of injecting fun into your time in Singapore.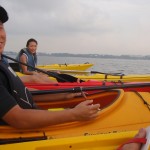 Through the long list of outdoor adventure programs we developed over the years, we have had many corporate companies approaching us for their team building and outdoor getaway programs. Adventures need not only be restricted to Singapore, we bring our clients overseas to nearby locations like Bintan, Bali and Malaysia for their company events as well.
advenTOUR provides a series of thrilling outdoor activities and tours compiled specially for you. These aren't just for the individual! You can share them with your family, friends, colleagues, and many others so come and enjoy your vacation in Singapore with advenTOUR – your adventure buddy.
For more information about advenTOUR, please visit our official advenTOUR website.