Want to get your adrenaline pumping and challenge yourself to try something different? ZOVBing would be the perfect activity for you!
Originating from New Zealand, Zorbing has been a must-do for many adrenaline junkies. Good news is, you can now do it right here in Sunny Singapore!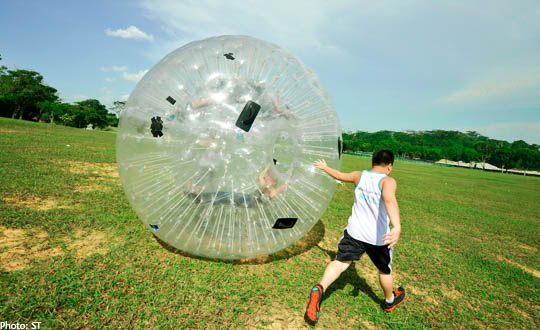 What is ZOVBing
For the uninitiated, ZOVBing involves getting strapped up securely inside a giant plastic double-layered air-cushioned ball and rolling down a gentle grassy slope. You will feel as if you're spinning around in an anti-gravity form of weightlessness almost like an intoxicated space traveller. Reach the bottom of the slope, unstrap and imagine you're a little hamster working it out at the exercise wheel. Balance and race around in our ZOVB balls as you compete against your friends to get back up the slope!
Another way you can enjoy the thrill of Land ZOVBing will be to couple the game with human-sized bowling pins. You can choose to be inside the ball and make a dash towards the pins to knock them down; or you be outside the ball and play it like a giantic bowling game in traditional style. This has been the party favourite in all appearances our Human Bowling game have been to!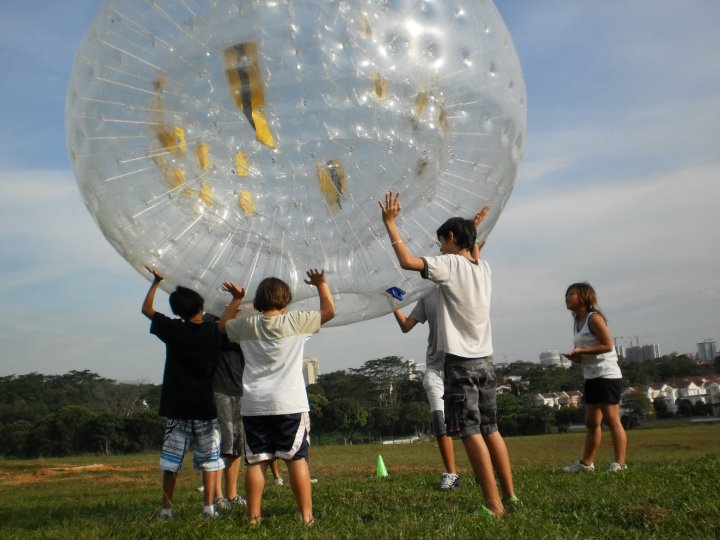 Benefits of ZOVBing
ZOVBing is a fun and safe activity that can be enjoyed by all ages! Whether you're using it to achieve game objectives, racing around or simply enjoying the momentum of you being thrown around within the ball – ZOVBing allows one to step outside their comfort zone to try something different.
Recommended For
Land ZOVB is an excellent activity for parties, carnivals, casual get-togethers and even corporate fun team building sessions. We are the only ZOVB provider you can find in Singapore so if you have an upcoming event and would like to find out more about Land ZOVBing, just drop us a note and share with us your details!
For more information, visit our ZOVB Official Website.