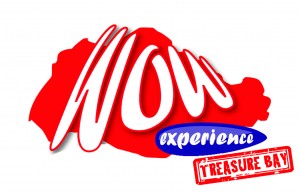 We are proud to be the appointed water sports provider in Treasure Bay Bintan. This is the newest integrated resort, probably also the up-coming talk of the town, in Bintan, Batam and Singapore! There are so many exciting activities and concepts in that place and one of the greatest attraction will be it's Crystal Lagoon! Imagine CLEAR BLUE water in a controlled environment without influence of tidal waves, jellyfish or any nasty bugs you possibly can find by the beach. This lagoon holds crystal clear waters and is purified through state-of-the-art modern technology and this is the FIRST in South East Asia!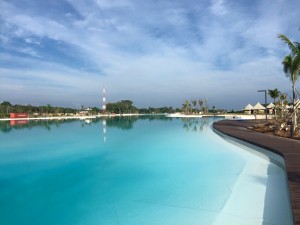 All our activities are conducted in and around the lagoon with water sports being our main strength. You can get to experience flying above the water (Jetovator), diving under the clear waters (underwater scooters), or to challenge yourself on the floating obstacle course at the Water Sports Park against your mates for the best timing! If you think all these are too adventurous for you, there are also more relaxed activities like leisure kayaking, steering the bumper boat, cycling on the water tricycle or even just attempt to "walk on water" in our Water ZOVB Balls.
There is something for everyone over at Treasure Bay Crystal Lagoon! You can opt to stay in the onsite accommodation (Natra or Anmon Resort), dine at the beach bar (Tropi Delco) or set up your own picnic baskets by the lagoon. We are just located next to the ferry terminal and you can be staying in any resorts / hotels in Bintan and still travel over for a day of fun!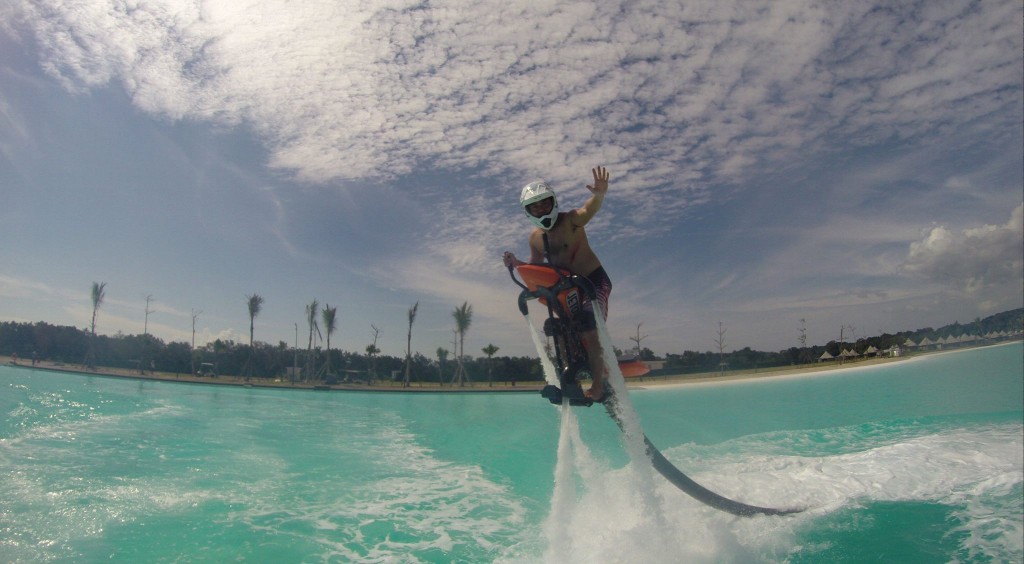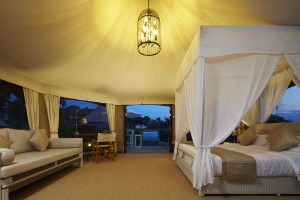 The onsite accommodation, Natra & Anmon Resort allows you to try out one of the latest holiday trend, glamping. Coined from the words glamor and camping, Glamping is the next best thing to experience living in a tent whilst still enjoying the luxurious of the modern day. Enjoy your day at the lagoon with the various water activities that's available at your disposal.
Other than water sports activities that we have to offer, we also offer team building activities for companies who are looking for a short getaway and to also do some team building and bonding activities at the same time to build better and more efficient teams. Talk about killing two birds with one stone!
Should you feel that the dinner options on the island are limited, you could always opt for kelong dinner that is just about a 10 minute boat ride away from the mangrove jetty. Take a short tour of the swamp and enjoy the sights and sounds of nature while you escape the hustle and bustle of the urban jungle. This unique location allows you to catch the sunset with the beautiful scenery as the background whilst you pamper yourselves with the freshest seafood that you can find in Bintan.
So stop complaining that Singapore is boring place and head over to Treasure Bay Bintan, just an hour away, to have some fun over the weekends or holidays! There are definitely lots of things to do here and we are constantly adding new activities and attraction to the lagoon. Crystal clear waters are hard to come by in our region and being able to see what's beneath or in front of you do help many and encourages them to splash into the water for some fun! Talk to us and find out more about our packages and latest promotions. You can also go to Treasure Bay Bintan to find out more. See you there!