Laser clay shooting is played with authentic, but de-activated 12-bore shotguns that fire infrared beams at reflective and reusable clays. The system is sound simulated- on fire, a realistic shotgun 'bang' is produced and hits are indicated by the sound of breaking clay. There is a scoreboard displaying the points scored by each gun. Up to 5 players can be playing at one time.
This can be enjoyed by people of all ages as it is completely safe, even for young children. It can be played just for fun, or as a serious competition. We have a range of shooting games that are designed to test the skills of both novice and experience shooters. This sport can be ideal for personal training development, birthday parties, corporate events and formal inter-organisation competitions.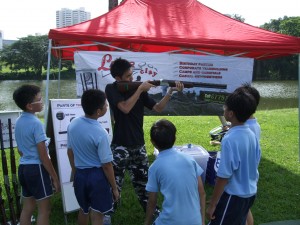 Laser Clay Shooting can be played indoors or outdoors. The venue should a minimum area of 30 x 10m as it is required to enable the clay to fly and land. The clay launcher can be adjusted to fire the clays at different heights and angles. This can be done ideally in open fields.  Currently we have a fixed ground in Sentosa Fort Siloso doing Laser Clay on a daily basis. If you do not have a group to organise this, it's best to rock up or book with us prior arriving in Fort Siloso Sentosa.
You can play this anytime! In the day time, the clays will be in three fluorescent colours; if you play this at night, the clays will be luminous and it will create a trail of bright green path as it flies across the night sky. Guns flash when fired, and clays flash when hit.
More information can be obtained from Laser Clay Office Website. We too have weekly Wednesdays and Sundays sessions, see Weekly Laser Clay Shootout for more information.
Book A Session