Laser Clay Shooting is the cleaner and greener version of trap shooting or clay pigeon shooting. We use reusable clay discs which are environmentally friendly while our shot guns work on infrared technology making it safe for everyone to play!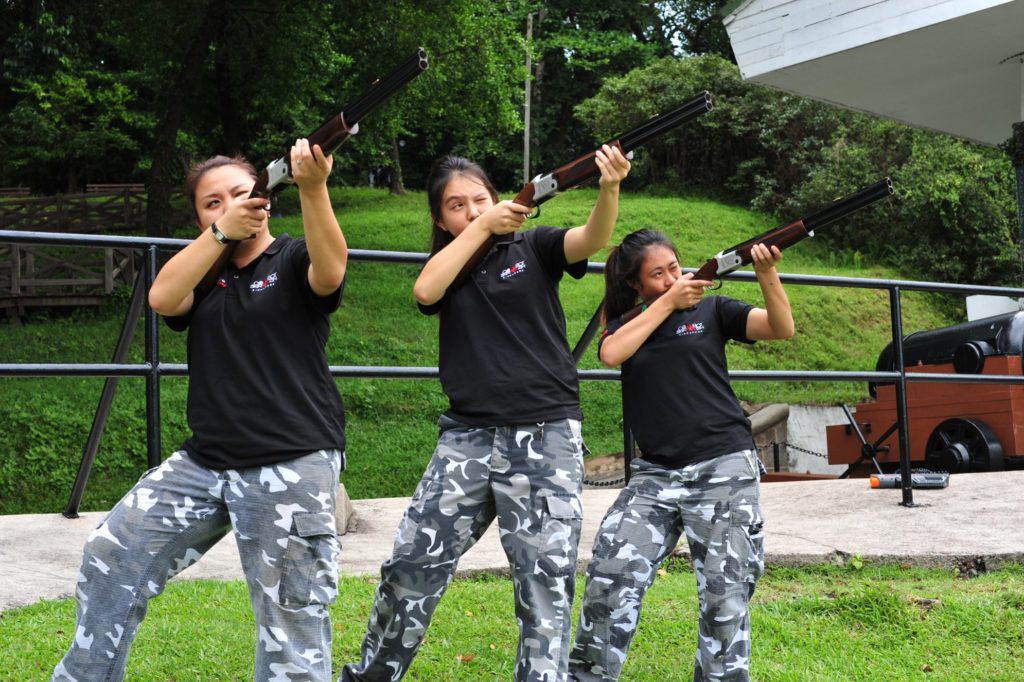 What is Laser Clay
Laser clay is played with authentic, but de-activated 12-bore shotguns that fire infrared beams at reflective and reusable clays. The system is sound simulated- on fire, a realistic shotgun 'bang' is produced and hits are indicated by the sound of breaking clay. There is a scoreboard displaying real time the points scored by each gun. Our system supports up to 5 players playing at one time.
For optimal play, we recommend having laser clay games in an open field. Our clay launcher can be adjusted to fire the clays at different heights and angles, allowing participants of varying skill levels to enjoy the game!
Want an even greater challenge? Laser Clay can also be played at night! In the day, our clays are seen in three fluorescent colours. However, if you play Laser Clay at night, the clays will look luminous and it will create a trail of bright green as it flies across the night sky.
Benefits of Laser Clay
Laser Clay is a low impact activity that can be enjoyed by all ages. As our system uses infrared technology, with no real bullets or projectiles being fired from the shot gun – it is completely safe for young children to participate. Players are able to switch the game mode and adjust the firing mode of the clays according to their skill level or to achieve particular training goals and objectives. Whether it's a casual game or a serious competition, we have a range of shooting games designed to test the skills of both novice and experienced shooters. Laser Clay is most ideal for personal training development, birthday parties, corporate events and formal inter-organisation competitions.

Recommended For

Laser Clay is most ideal for personal training development, birthday parties, corporate events such as carnivals or team building as well as formal inter-organisation competitions
For more information, visit our Laser Clay Office Website. Interested in our weekly Wednesdays and Sundays sessions? See Weekly Laser Clay Shootout for more details.