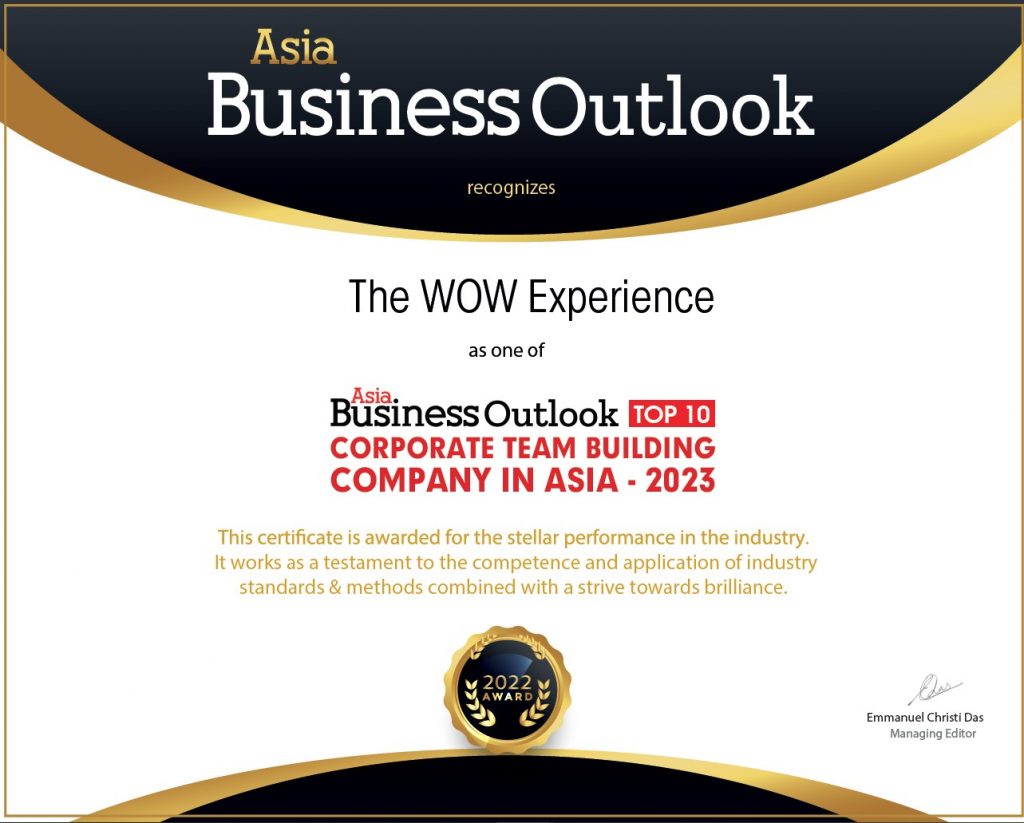 The WOW Experience, the leader of fun activities in Singapore, invites you to discover a whole new experience, that you never thought you'd experience on our sunny Singapore island! After the establishment of Combat Skirmish in 2005, The WOW Experience had subsequently found ZOVB in December 2007, and Laser Clay in 2008. We also provide Adventure Tours for locals as well as tourists, which include cycling, kayaking trips, kelong visits, food tours and many others. One of our installment in the later years, is an exclusive and luxurious Yacht Charter service. On top of that, we had also added Water ZOVB, Bubble Bloop Suits, Water Tag, Giant Beach Ball and Kinball into our array of services.
We got so recognized in the industry that we have got big name company looking for us to provide outdoor recreational activities in their premises. We had operated a Laser Tag attraction in Sentosa Island Fort Siloso called Combat Skirmish LIVE and is also still the existing operator of water-based activities to various Bintan Resorts in a Crystal Lagoon and other sea sports locations. We too have set up Let 'em Play, an indoor climbing and high element facility, in Singapore and it subsequently got acquired by an interested organisation.
So whether you're trying to find an original gift idea, have fun with your friends, astonish your customers or reinforce cohesion between your collaborators, look no further. The WOW Experience will answer to all your desires.
 OUR EXPERIENCE AND SAVOIR-FAIRE
With various unique activities, Combat Skirmish, ZOVB, Bloop, Laser Clay, Soccergolf and Yacht Charter, The WOW Experience Pte Ltd is definitely a specialist of leisure activities in Singapore. We invite you to live exceptional moments of magic and motions. Created in 2005, the company uses its experience to provide a simple and innovative concept: Adventure Tours, the first service provider of leisure activities in Singapore.
 OUR CONCEPT & PASSION TO BRING FUN TO SINGAPORE
Has this thought ever crossed your mind throughout your decades living in sunny Singapore: "Singapore is such a boring place! There's nothing fun to do, other than shop and eat!" Well, we thought so too, until we found Combat Skirmish, ZOVB, Bloop, Water Tag, Laser Clay and Yachting. Our passion lies in bringing fun activities to Singapore, making them accessible to Singaporeans and visiting tourists. Activities are handpicked for their originality, and services are developed to suit different groups. We are a bunch of adrenaline junkies who live to play, which explains the concept of our business. We aim to provide something for everyone and hopefully, someday, you will be spoilt for choice.
 OUR COMMITMENT TO DELIVER A WELL-RUN & SMOOTH EVENT FOR ALL OCCASIONS
Although we are a group of fun-filled adrenaline thirsty Singaporeans, we are dedicated to deliver the best we can for our customers. We make sure that every event runs smoothly, be it a birthday party, a corporate teambuilding event or just a casual get-together among friends. We strive to make it hassle-free for organizers as much as possible, so that they don't forget to have fun even with the other necessary preparations to be done. Our aim is to be professional, yet approachable, in delivering FUN to our customers and serving them with high quality and well maintained equipment. That's how we want to create a WOW effect in Singapore.
 OUR EXPERIENCE IN DEVELOPING TOTALLY NEW OUTDOOR ACTIVITIES IN SINGAPORE
We have the confidence in offering the best and most reliable service to our clients. We specialize in bringing fun to people and creating WOW effect on players and observers with new outdoor activities, and our portfolio has shown our strength in our creativity in the development of game plays based on the equipment that we possess. We have an organised system of development, but we are always open to suggestions on how we could improve on our services. We aim to continually satisfy our existing customers, as well as reach out to newer markets.
 OUR CREATIVITY IN BRINGING IN NEW VIABLE SPORTS
Our circle of activities is growing fast, and who knows what we'll be coming up with in the next couple of years? Anything can happen and everything could be possible. You can no longer say, "Singapore's a boring place!" after you have patronised us. WE can spice up your lives!